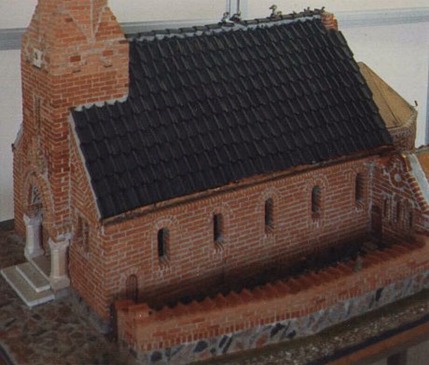 Model af Frederiksværk Kirke bygget i mini-TEGL af en pensioneret murer, omkring 1980
Danish church model in size 1:33 (120 x 60 x 200 cm) build in mini-TEGL.
See much more of this church model, and many other projects + instructions on our 90 min.DVD    --- We make Special DVD films for architects and education.
Bricks can even be delivered in : mixed read( middle age) burnings / yellow / flamed yellow /glassed, and you can cut the bricks (or beams 1016) in shapes, or you can shape them with sandpaper  
mini-TEGL for hobby brug
Her på "Verdens mindste Teglværk" fremstiller vi mur og tagsten i hele 8 skalamål, fra micro til MAKRO               (se under produkter)                ALT kan bygges helt naturtro--Tåler ild og vand. Vi laver også (giftfri) asfalt og armeret beton til f.eks hænge- og skråstags-broer og bygning af veje og pladser ( med betonfliser )
Med mini-TEGL har man en billig hobby. I modsætning til plasticbyggesæt kan mini-TEGL skilles ad (lægges i varmt vand i to timer) og bruges til nye projekter hele livet. Plantemørtelen kan dog ikke genbruges.                          Til udendørs brug opmures med alm cement.
Byg selv bygningsværker,  ja hele byer til rollespil.                                 Jeg kan vejlede ud fra næsten 30 års erfaringer med mini-byer
 NYT  nu bygge-elementer i tegl til miljøer for model-biler og tog i endnu flere skala-mål, herunder mikro og fra medio 2014 også i 1:15             Dertil mT asfalt og prægeforme til betonfliser og brosten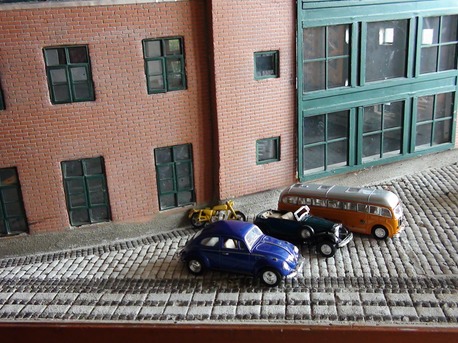 BYG NATURTRO OMGIVELSER TIL DINE MODEL-BILER / SKIBE ( f.eks. en gammel havnekaj med pakhuse )                             
The blue VW car is in scale 1:32 + a veteran ? in 1:43 from 1933- the bus 1:87.  The pavement is made with our molds
Make nature like panoramas at your model-cars / ships e.g. an old port               ( see more under Photo s) 
Build it in thousands of tiny bricks, or have it delivered as hard burned clay-elements according to your design in Scale 1:32 - 1:22 -From mid 2014  even in 1:15 for the big trucks and train - models. Before we burn the elements, we can cut wholes for windows and more, acc to your specification., and space for cross-wood. Make brick details of the separate bricks - or in our marbel /sandstone. Roof in our tiny roofing tiles of various old types. 
Windows and doors, to opened, can be made in our tiny wooden profiles
You are spending so much time and money on the rolling materials, why then have simple buildings in plast or plywood, instead of real model-buildings in tiles and metal.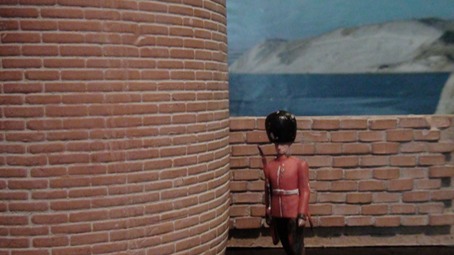 Byg også alle typer middelalderbygninger som naturtro modeller i alle 8 skalamål, 
kan bruges inden- og udendørs, kan tåle ild ved film og rollespils panoramaer
Build any type of middle age buildings in many scale, true to the original, both for in door use and out-door use,
mini TEGL bricks and roofing-tiles can stand both rain and fire ( Those with war-panoramas, burn the houses half down 
_______________________________________________________________________________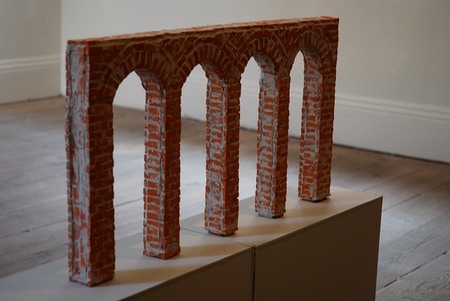 Del af Aquadukt bygget i Sverige af billedkunstneren  Charlotte Hellstadius 2011
mT asphalt and concrete for road building